Among Portland's many iconic watering holes (all of which we miss), Bar Norman has occupied a special place in our hearts the last couple of years. We're kicking off our new Takeout Takeaway series by interviewing Bar Norman's owner/operator, Dana Frank, about rolling with the punches through the often disorienting pandemic landscape.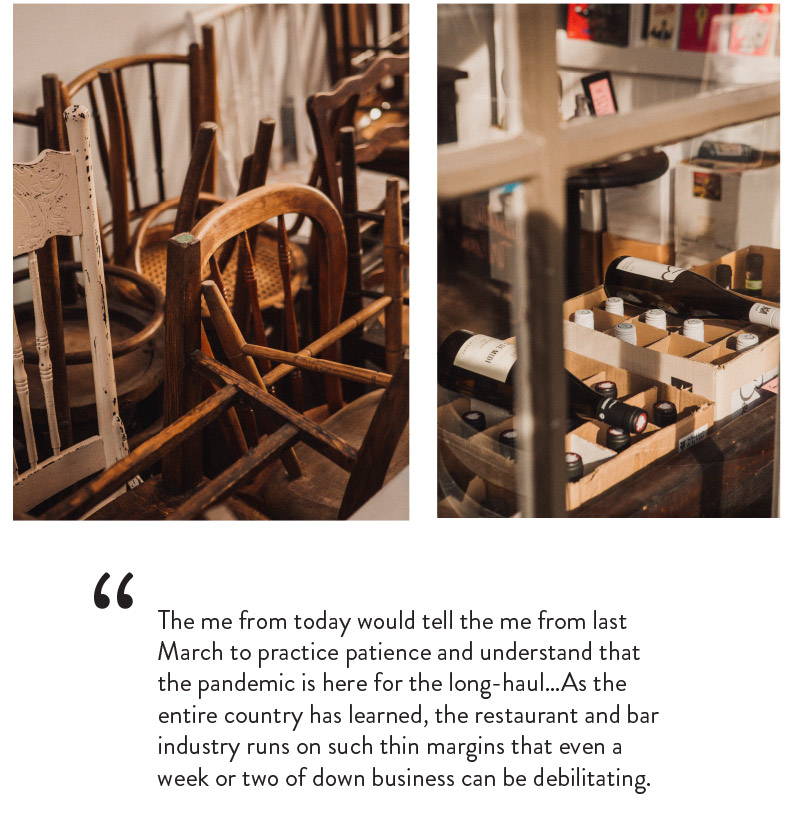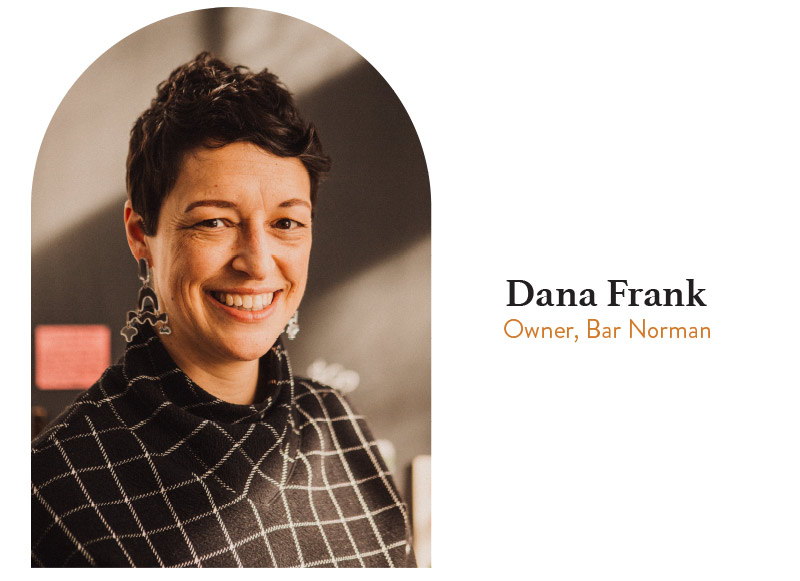 In response, Dana switched up her model and transitioned Bar Norman to a retail wine shop with weekly Quarantine Quaffers, a hand-picked selection of Dana's favorites from any given week.
"I've had many friends ask me to take my business online over the years and I've always been hesitant, but being locked down at home affordered me plenty of hours to come up with a plan and I literally had nothing to lose."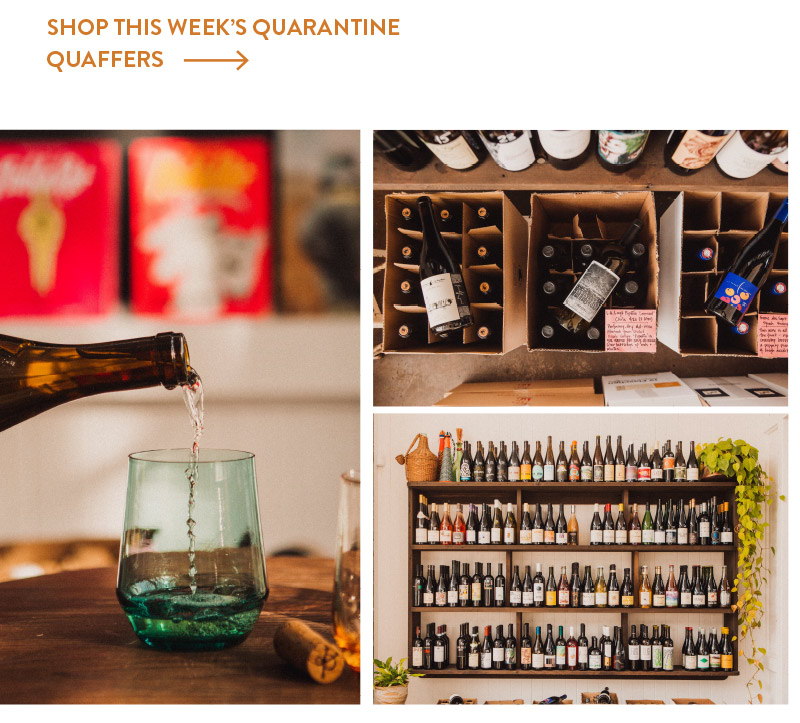 First off, Could you tell us a little about Bar Norman's current offerings? How can people experience Bar Norman today?
We closed the bar last March when the pandemic hit and have since reopened for retail sales. We've been running shorter winter hours and it's been great to welcome people back into the space, but we're looking forward to the longer days ahead.
Starting the first week of March we'll be extending our retail hours to Wednesday-Saturday 12-7pm and Sunday 12-5pm, and our outdoor patio plans are in the works, so stay tuned!
We also run a weekend 'flash sale' online every Sunday and Monday called Quarantine Quaffers. Rather than having our entire shop inventory available on-line (as a customer, it can be really tedious to scroll through endless pages of bottles), we oer 6-8 wines we're most excited about that week and they're available from 9am Sunday til 5pm Monday. I started Quaffers at the beginning of lockdown as a way to get wine to people, mostly through delivery. The idea absolutely took o so I've just continued pretty much every weekend for a year, and the wines are available for delivery or pick up at Bar Norman.
'Natural Wine' has this element of both being really ancient and being part of this big revolution in the beverage world. What do you think is the future of wine? Of social drinking culture in general?
I think we're in the future of wine now! I think discussions about farming practices such as biodynamics and regenerative farming, as well as labor transparency are pivotal to how consumers think about wine. We're moving out of a time when wine was merely a commodity, to a time where people are thinking about wine as much as they think about food. And that's huge. It's simple, really: wine is an agricultural product. That's not sexy, but the truth is, we need to think about how the land is tended, the workers are cared for, and what's in the bottle just as much as we need to think about chicken, wild salmon, broccoli, and canned tomatoes.
Every step of the process, every person involved must be considered. If you buy cheap meat, you have an idea what sort of conditions those animals were grown in, you can surmise what the work environment is like, and you don't really know what you're putting in your body. Substitute 'wine' for meat, and 'grapes' for animals in the previous sentence, and you get my drift. Thinking about wine this way is more time-consuming. It might mean you don't buy the wine with the coolest label, or you spend a few dollars more than you're accustomed to, or you only drink wine two nights a week instead of 5, but all of these little moves make a big difference.
Socially, I think (I hope) people will be asking more questions and expect more of their neighborhood wine shop. If we're going to continue raising the bar and holding farmers and vineyard managers and winemakers accountable, we also have to be responsible for the wines we're drinking.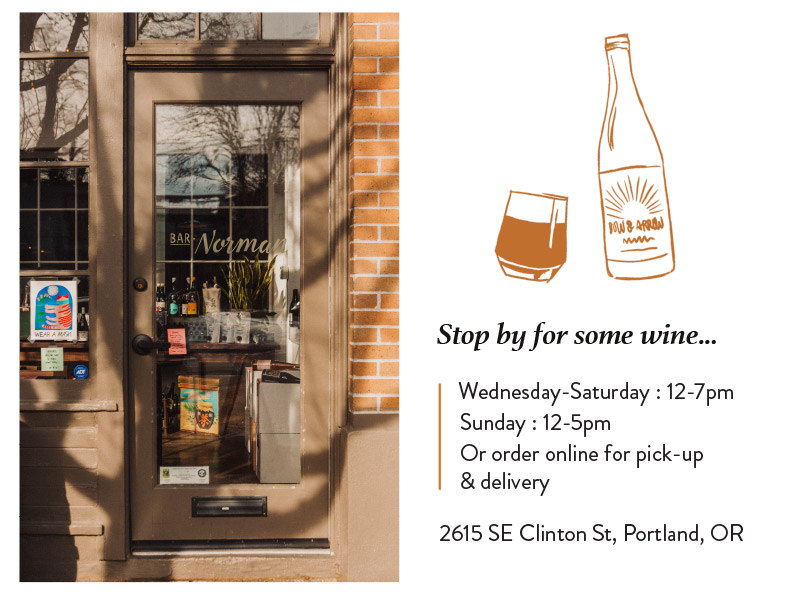 There have been tremendous struggles through all the craziness of the pandemic - You've been nimble and responsive to all of them. What would the "you" from today tell the "you" of March 2020? What was your approach to finding solutions to these obstacles throughout the year?
Thank you, it really means so much when people see the pivots and creativity it takes to survive this pandemic (for all small businesses, not just mine). I feel extremely lucky to still be open, albeit as Bar Norman 2.0. The "me" from today would tell the "me" from last March to practice patience and understand that the pandemic is here for the long-haul. That laying off my staff means most of them won't be coming back, that a bar full of people drinking wine and listening to music is going on a long hibernation, and that community is everything. I would also tell myself to take everything one day at a time, not something I'm good at, but I'd take the reminder.
As the entire country has learned, the restaurant and bar industry runs on such thin margins that even a week or two of down business can be debilitating. There have definitely been moments of 'why am I pushing on?', especially after George Floyd's murder and the invigorated movement for Black lives. But as a mother and a female business owner, I also feel entirely responsible to my daughter. I want to show her that even in times of crisis, there are ways to persevere. Bar Norman is my dream business and it was created after years of experience in the industry and my deep love of wine and farmers and good music and community. In the early days of the pandemic, I would play a terrible game of 'would you rather': keep the bar, not knowing when and if I could reopen and possibly lose every penny to my name, but hope for the best vs. let it go, avoid the burden of anxiety and suffering, but know that I walked away without a fight. The former option won, so that meant I needed to find some really creative ways to use the space.
Luckily, the bar was super conducive to becoming a shop, merely by moving some tables and chairs and stocking up on more wine. I've had many friends ask me to take my business on-line over the years and I've always been hesitant, but being locked down at home afforded me plenty of hours to come up with a plan and I literally had nothing to lose. People really love having wine delivered to their doorstep, so I'm glad I took the plunge.
The holiday shop was born out of the idea that I wanted to oer something other than just bottles for people to gift their loved ones. People love wine, bottles are great, but they can be a little boring, too. I knew it was going to be a very tough season for folks, not traveling, not seeing family and friends, so I thought a more curated shopping experience would feel up-lifting. I doused the shop in tinsel and sold cookbooks paired with wines, gift boxes, vintage glassware, and wine books and independent magazines. December was a blast and my creative juices had me vibrating like the Statue of Liberty in Ghostbusters 2.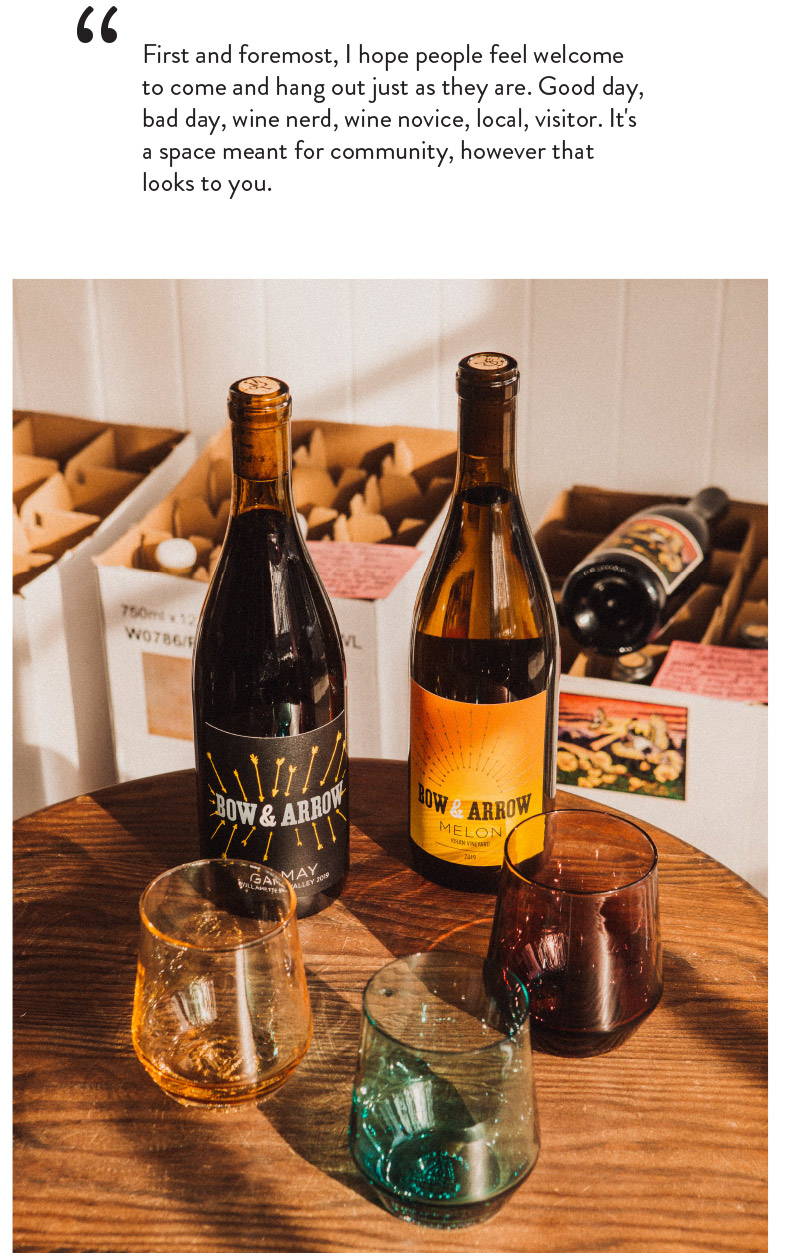 My husband, Scott and I founded Bow & Arrow in 2010 with a mission to make Willamette Valley wines that are inspired by the Loire Valley in France. Wines from the Loire captured our hearts early in our careers and the climate and terroir are strikingly similar between the Western French valley and the Willamette Valley (more so than Burgundy, even, which is the region so many people compare the Willamette to).
The core of Bow & Arrow is the red Gamay grape, but we also make some Pinot Noir, as well as Melon, Sauvignon Blanc, Chenin Blanc, and Cabernet Franc. Scott is the heart and soul of B&A, and while I love to oer a listening ear and we brainstorm ideas together, I hold up the hospitality end of our family business at Bar Norman and try to stay out of the way of the winemaking. Scott considers himself a 'scrappy negociant', meaning he buys our grapes from good farmers, rather than owning and farming a vineyard.
The winery is located in Northeast Portland and the wines can be found at Bar Norman (our de facto tasting room) as well as at other retailers and restaurants in Portland, around the country, and internationally.
2019 Bow & Arrow Gamay
Willamette Valley, OR
---
Gamay is the first red wine to emerge from the fantastic 2019 vintage. Although time has ravaged my memory somewhat, I cannot recall a better expression of Willamette Valley Gamay coming from our cellar in the eight vintages we've produced.
At its best, Gamay walks a high wire balancing the best of gluggable and fresh traditions with the seriousness of regions to the north of Beaujolais (aka Burgundy).
The 2019 Gamay feels like crunchy red fruit locked inside a savory, herbal shell...with miniature lightning bolts coming out the sides.

2019 Bow & Arrow Gamay
Willamette Valley, OR
---
Muscadet is often considered the biggest underdog in the world of wine. Another way to say it is Melon, the grape that makes Muscadet, is the poor man's White Burgundy.
Made in a similar fashion but in humbler vessels, Melon expresses terroir in a subtle and complex way just like its famous friend. It has an affinity for granite, and Johan is the only vineyard in the Willamette Valley with both.
So drink your young Burgundies if you like and age your Melon. You will be rewarded with one of the biggest transformations you're likely to experience in a cellared white wine.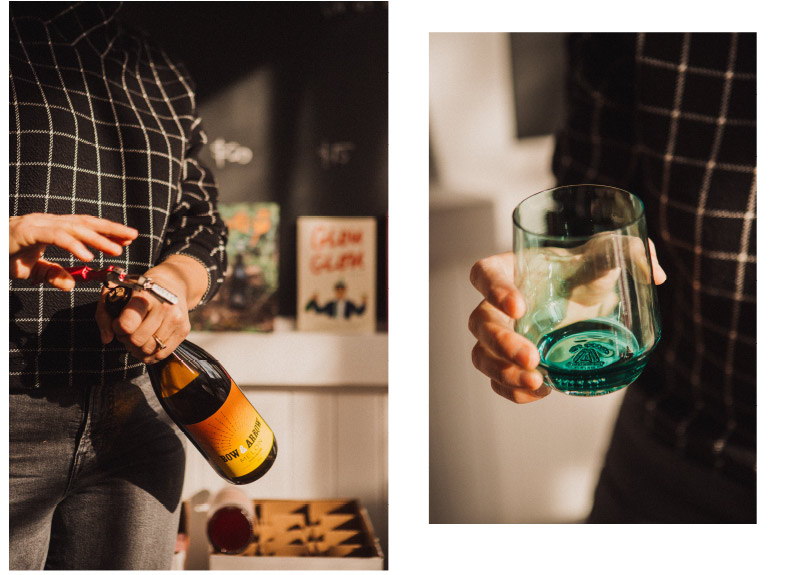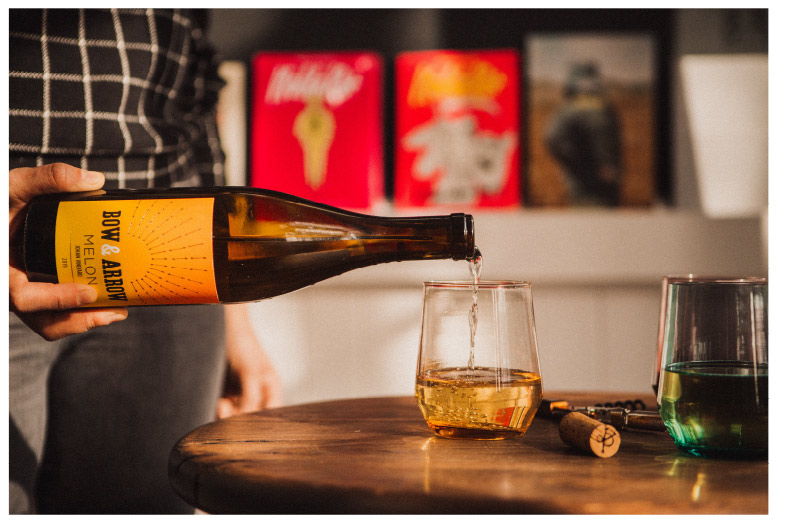 A huge thank you to Dana for her time, insights and hospitality.
---