Portland bar owner, writer and dad, John Naekel (Old Gold, Paydirt, Tough Luck, Hi-Top Tavern) was nice enough to share his no-fuss variation of the timeless Negroni.
JOHN'S MEZCAL NEGRONI

"As a bar owner, friends regularly reach out to me for advice on booze. The two most common questions I get are,'What's a good bottle of whiskey I can buy as a gift' and 'What's a good cocktail I can make at home?' The answer to the first one is simple and it just depends on their budget. If their budget is $100 my answer is, 'Five bottles of George Dickel #12.' I could write a novel about the merits of Dickel and why it's the workhorse of my home bar.
But the more frequent question I get right now, in quarantine life, is the one about cocktails. People are getting more creative at home- happy hour is starting earlier, particularly if you have kids and are engaged in distance learning, and there is only so much sourdough bread you can bake.
I like pretty simple cocktails, I like fancy, complex cocktails too; but I save that effort for the pros. We have some insanely talented bartenders at our bars, and I love watching and drinking what they come up with."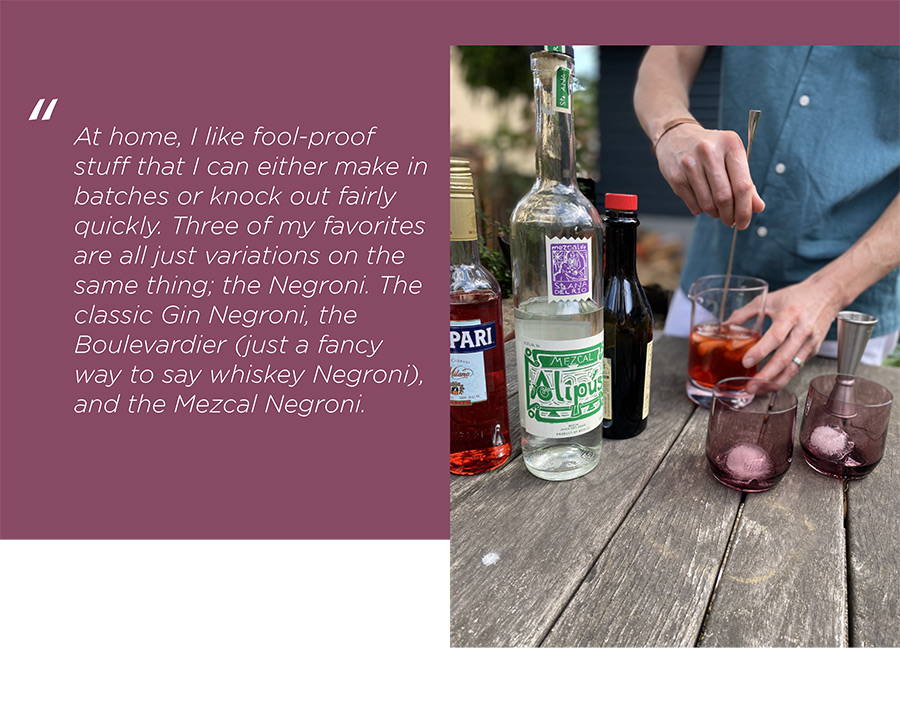 "At home, I like fool proof stuff that I can either make in batches or knock out fairly quickly. Three of my favorites are all just variations on the same thing; the Negroni. The classic Gin Negroni, the Boulevardier - just a fancy way to say whiskey Negroni - and the Mezcal Negroni. And the key to each, in my opinion, is a good sweet vermouth. I personally love Carpano Antica Formula. When someone wants to upgrade their home bar, that's usually my first recommendation.
Then, get some big cube ice trays and invest in some decent glassware. It will make you feel a little more human in this post-apocalyptic hell-scape we are currently living through. And, when you can finally have some guests over to the house again you can wow them with your delicious cocktails in your fancy glassware, and the fact that you're finally not wearing sweatpants."
---
Ingredients :

1-2oz Banhez Mezcal

1 oz Carpano Antica Formula Sweet Vermouth

1 oz Campari


Garnish: Lemon Peel
Method:
Stir well with ice in a mixing glass or shaker.

Strain over a big cube in a Mazama cocktail glass.

Garnish with a lemon peel.
---
---