Award-winning Portland bartender and author, Jeffrey Morgenthaler (Clyde Common, Pépé le Moko) was nice enough to share his Bourbon Renewal recipe with us. Read the story behind the classic cocktail and check out his full recipe below.
Jeffrey Morgenthaler's Bourbon Renewal

TG: What inspired this cocktail? Is there an interesting story behind it?
J: Yeah, this was a drink I came up with back in 2001 or 2002. It was one of the first drinks I ever created. This was back in Eugene, Oregon. When I moved to Portland and took over the bar at Clyde Common, I needed a bunch of drinks for the new menu in a hurry. So I threw this one on, thinking I'd eventually have to replace it with something else. I didn't think it would be "cool" enough for Portland, it certainly wasn't all that popular even when I lived in Eugene.
Lo and behold it sold like gangbusters and it's been on the menu ever since. When we were open, we sold close to 10,000 of these a year. It's our most popular drink by far, and we've even spotted it on other drink menus around town and around the world.
TG: How long have you been bartending? What is your background?
J: I've been tending bar for 24 years now. Half my life. I started as just a way to pay for school, I was in architecture school during the day, then I would tend bar at night, and usually head back into the studio until the wee hours of the morning. After I graduated I worked in offices for a while, but I always kept my bar jobs. Eventually the bartending supplanted the desk job and I've been running bars ever since.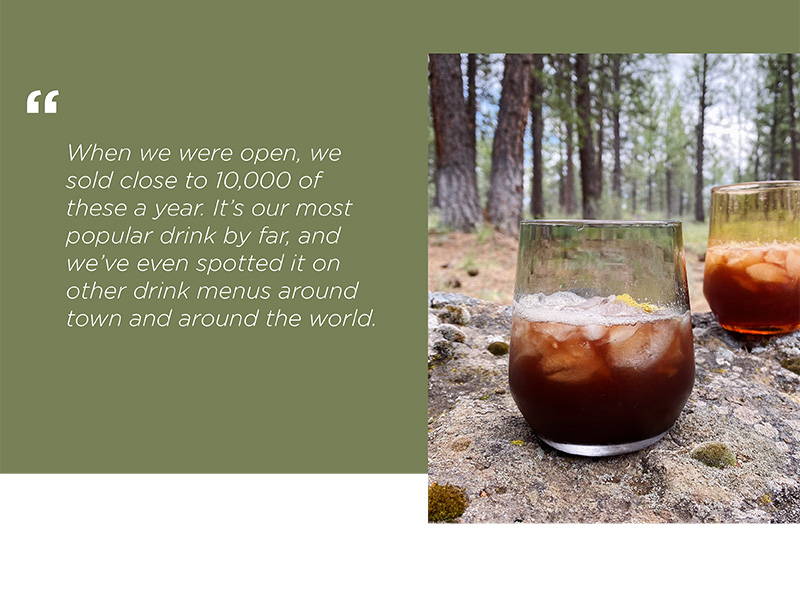 TG: Any stories or tips for all of us stuck at home trying to recreate our favorite cocktails until we are able to go visit our favorite bartenders again.
J: I have tons of stories and tips and tricks. Check out my blog, it's the oldest cocktail blog on the internet. I've got nearly 500 articles up there that are intended to help you make better drinks at home or in a bar. And there are some funny videos up there, too. I hope you like it!
---
Ingredients:

• 1 1/2 oz Bourbon
• 3/4 oz fresh Lemon Juice
• 1/2 oz Creme de Cassis
• 1/2 oz Simple Syrup
• 1 dash Angostura bitters
Method:
1. Shake ingredients with ice until cold.
2. Strain over fresh ice into Mazama glass.
3. No need for garnish - but if you must - garnish with a lemon wedge, or fresh currants if in season.
---