This week for our At Home Recipes, we are back in the kitchen with Rashad of Yoshi Jenkins. Last week, we introduced the chef's inspiring passion to bring people together through the joy of food with an insightful Q+A and a couple mouthwatering recipes. Today he shows us how to make Grilled Cauliflower Steaks with Curry Sauce and Clam Fried Rice.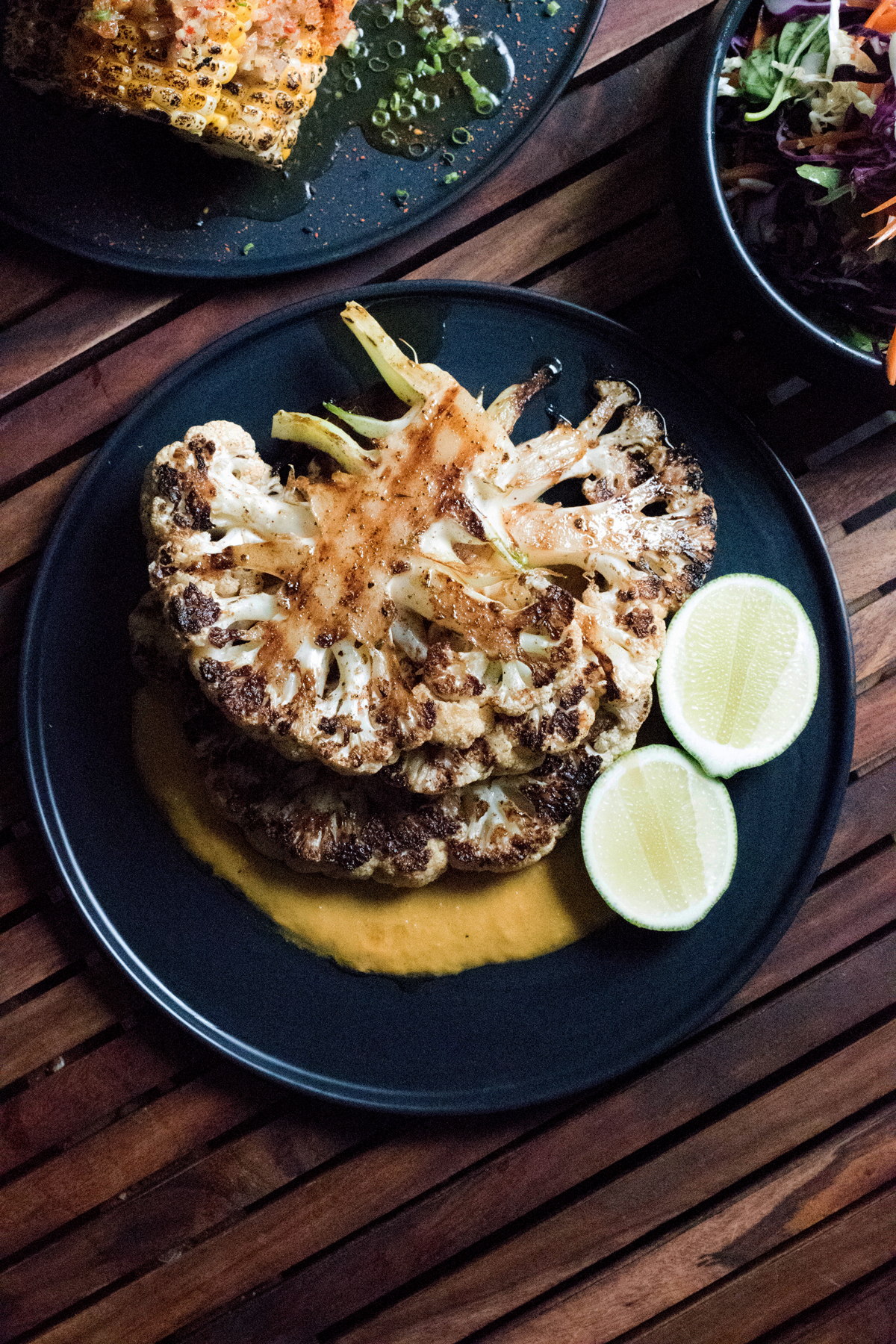 Cauliflower w/ Yellow Curry Sauce
"This dish checks a lot of boxes. For one, the sauce can be used for anything you like. Next, the grilled cauliflower florets act as natural thickening agents which prevents from having any waste. Lastly, it's healthier and would hold up at any bbq in Portland."
Ingredients:
Serves 4
2 cauliflower heads, cut into 1 inch thick slices; preserve loose florets for sauce.
½ cup oil
¼ cup of your favorite dry rub (we used a Carolina style rub)
For Curry Sauce:
3 shallots, rough chopped
2 garlic cloves, smashed
1 thumb-sized piece of ginger, rough chopped and smashed
2 birds eye chilies, stem and seeds removed
2 stalks of lemongrass, bash bruise then rough chopped
1 tbsp turmeric powder
2, 8.5 oz cans of coconut milk
1 large tomato, rough chopped
1 cup veggie stock or water
2, 8.5 oz cans of coconut milk
1 tbsp sugar
Salt to taste
The Curry Sauce:
Make the curry paste first. I typically use a pestle and mortar. But for this recipe we're using a food processor. Toss the onions in first and pulse until minced. Next, toss in garlic, ginger, lemon grass, and chili then pulse until minced. You'll probably need to scrape the sides to ensure the paste is evenly minced. Lastly, toss in the turmeric and pulse. Visually it should look like a rich yellow coarse-wet like paste.

Prepare the sauce by placing the chopped tomatoes and veggie stock into the food processor. Blend until smooth, about 1 minute or less. Pour sauce thru colander or sieve to remove any chunks/lumps. You want it smooth.

Heat a large sauce pan on high with two tablespoons of oil. Toss in your curry paste and stir to mix in the oil before reducing heat to medium. For 5 minutes, leave the paste to sweat or until the paste begins to caramelized. Not burn! There's a difference. Lol reduce the heat to medium low if necessary.

When the paste has caramelized, bring your pot back to a high heat and add the loose cauliflower florets.. Toss around to pick up all the bits and pieces ( the good stuff) from the bottom of the pot and ensure each piece is well coated with curry paste. Do this for 2 minutes or less. Add the sugar and a liberal amount of salt to taste. Next gradually add the coconut milk a ½ a can at a time, stirring to incorporate and allowing to return to a boil. Repeat this step until all the coconut milk is used.

Bring the pot to a boil. Add the tomato and chicken stock sauce, bring back up to a boil, then reduce the heat and leave to simmer for 12 minutes or longer depending on taste. If you have a hand blender blend sauce at this point to break down florets. Or you can add the sauce to a food processor to puree the cauliflower to help thicken the sauce. Can be made 3 days ahead.
Grill the Cauliflower:
Prepare a grill. While the grill heats up mix the dry rub and oil. Liberally, brush the marinade all over the cauliflower steaks. Season both sides with salt and pepper.
Over indirect heat grill steaks for 4 minutes per side. Move to a platter, cover lightly with foil and let rest for 10 minutes.
Serve with yellow curry sauce and limes wedges.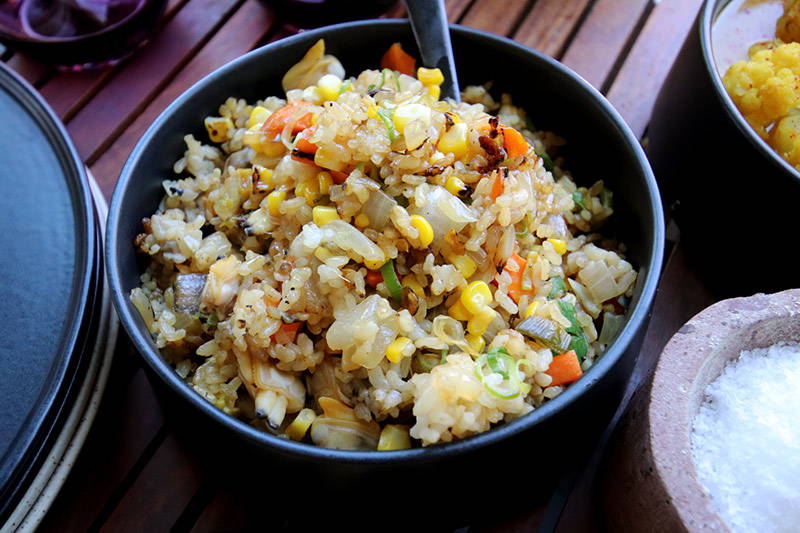 Clam Fried Rice
"This dish lets you eat amazing seafood and fried rice while saving the planet. Clams are sustainable and delicious, plus our friends at Portland Seafood Market keep clams, fresh and sourced directly from the Oregon and Washington coast, always on hand. Enjoy!"
Ingredients:
3 tbsp. vegetable oil, divided
1lb fresh clams, steamed, preserve clam meat
8 scallions, whites chopped, greens thinly sliced 2 cloves garlic, roughly chopped
1 tbsp. ginger, chopped
1/2 onion, chopped
1 medium carrot, chopped
1 whole corn, kernels removed
2 cups pre-cooked rice
2 large eggs, beaten.
3 tbsp. soy sauce
2 tbsp. rice vinegar
2 tbsp. toasted sesame oil
Method:
1. In a large wok or skillet, heat 2tbsp. vegetable oil on high heat. Add ginger and garlic, cook until fragrant: about 30 seconds. Toss in scallion whites, onion, corn and carrots. Cook for 3-5 minutes.
2. Add rice and stir to coat for 20 seconds. Then let rice cook, untouched, until crisp about 2 minutes.
3. Push rice to one side of skillet, add remaining oil to the empty side followed by the eggs and allow to cook. Once cooked, work the scrambled eggs into rice mixture for 30 seconds.
4. Toss in soy sauce, vinegar, sesame oil and clams. Cook, tossing constantly, until clams and rice mixture are heated through, about 30 seconds. Turn off heat and toss in scallion greens and extra sesame oil.
Follow and connect with Yoshi Jenkins on Instagram.
Massive thanks to Rashad for his words and wonderful recipes.
---