Yoshi Jenkins is an experimental hospitality brand based in Portland and New York City. Our creative director sat down with chef and owner, Rashad Frazier to learn more about his entrepreneurial journey, the importance of learning from mistakes and his vision for the future beyond a turbulent 2020. Rashad was also kind enough to share some Yoshi Jenkins recipes with us.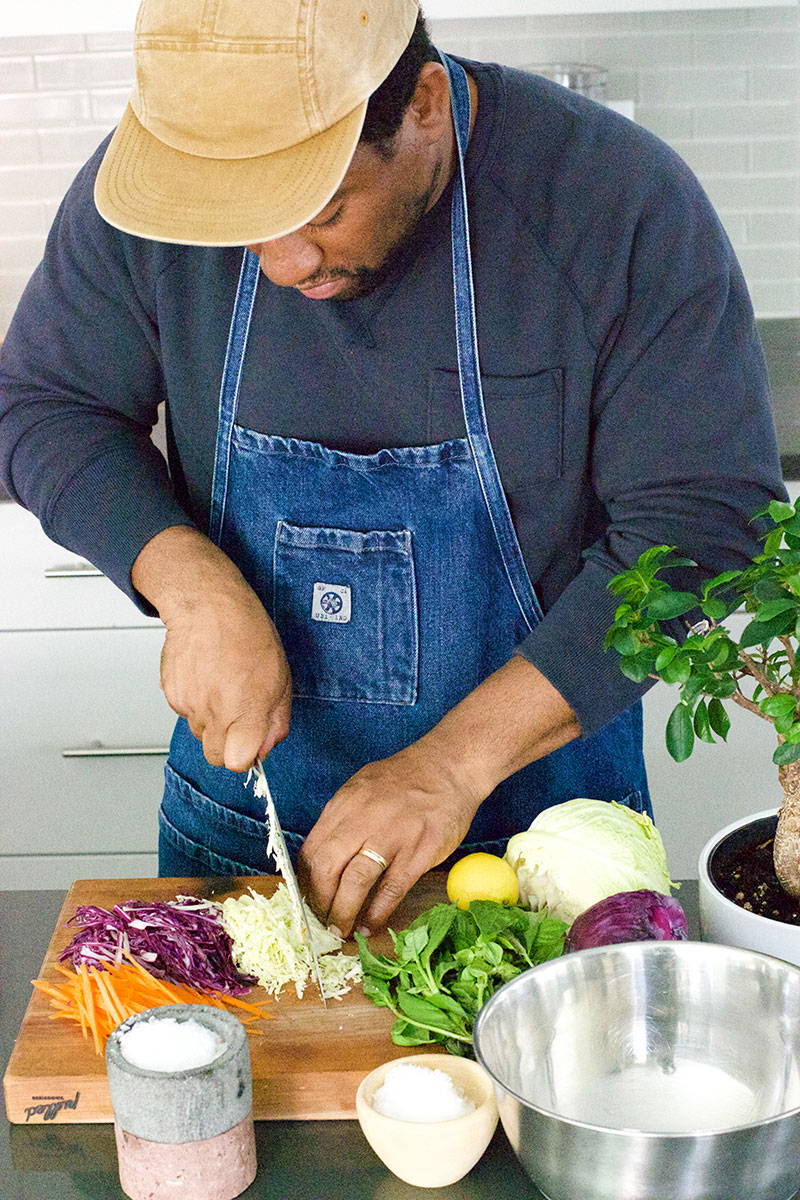 When I met Rashad Frazier, he was buzzing over an array of simmering pans containing colourful vegetables and searing chicken while the scent of saffron rice wafted through the open air.
An inviting grin revealed the joy for his craft, and we got to talking. While he was turning okra skewers over a coal grill, he shared the inspiring vision behind his experiential food brand, Yoshi Jenkins. His concept is a rousing example of the power food has to bring us together across cultural and geographic backgrounds.
..........
Rob: What inspired you to start Yoshi Jenkins? What does the concept represent?
Rashad: "How much time do we have? lol The short answer is I've always been interested in story-telling and culture inspired by Pan African and Pan Asian influences. I've only scratched the surface but there are so many stories of Afro Asian solidarity driving the Yoshi Jenkins concept. More than often I feel like an anthropologist than a chef. For years, black and brown perspectives have been marginalized by a European lens and institutional racism. My hope is YJ is pushing back against this via our food experiences, products and so much more."
Rob: What has been a challenge you've had to face in your journey?
Rashad: "Words can't express how much I've enjoyed access to nature, mountains and slower living in the PNW but 90% of Yoshi's opportunities exist in New York City. This has created quite the logistical challenge with existing clients/accounts and creating new ones. And this was before COVID. Luckily, I have an amazing team who keep the brand thriving in NY and we look forward to picking back up where we left off after COVID. By the way, HUGE shout out to my amazing wife. No way I'd be able to move Yoshi and other opportunities the way I have without her."
"For years, black and brown perspectives have been marginalized by a European lens and institutional racism."
Rob: If you could go back to young Rashad, what advice would you give him starting out?
Rashad: "I would tell him to keep doing what he's doing. Obviously, I've made mistakes during my journey but that is how you learn. There is no teacher greater than that of experiences/mistakes."
Rob: What's a recipe you feel everyone should have in their back pocket?
Rashad: "Great question. Lately, cooking at home for the fam has featured one dish a lot: fried rice. This dish is such a quick easy and delicious go-to. Plus, its versatility opens so many different variations. Feeling like shrimp? Shrimp fried rice. Not eating rice or meat? Veggie fried quinoa. You get the point."
"This pandemic has given me a spiritual renewal, a mental reboot if you will..."
Rob: Do you see a silver lining in the Pandemic / is there something you are optimistic about on the other side of this?
Rashad: "I'm optimistic about people going back to the basics. Like, sitting down to enjoy a family meal. Actually talking to one another and exploring the outdoors together. I have been able to see my family through a different lens because of the time we're sharing. Now, don't get me wrong, some days have been rough. I've also found joy in the slower living and memories we are carving out. This pandemic has given me a spiritual renewal, a mental reboot if you will...to be a better husband, father and entrepreneur. These are just a few of the things I'm optimistic will continue when we come out of this pandemic."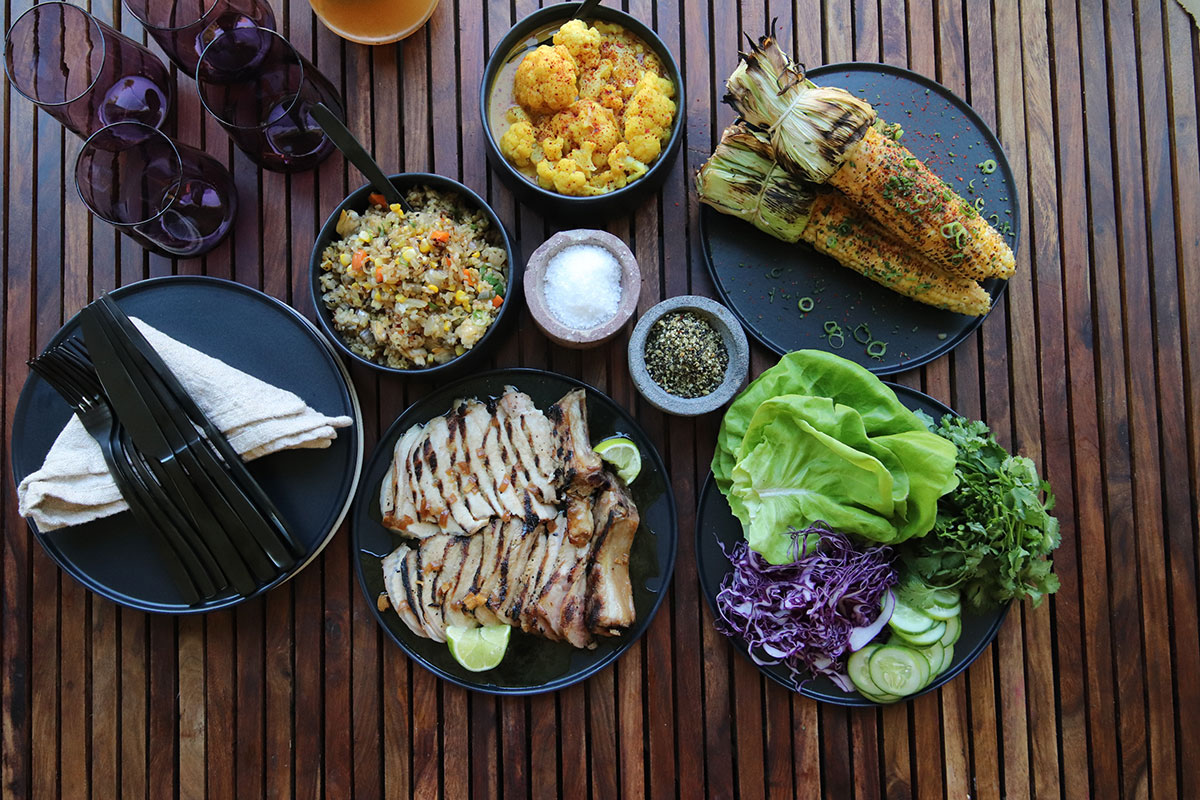 Rob: 2020 has obviously been a year with incredible challenges and rapid change due to a Global Pandemic and a major movement to re-examine systemic racism in the country. With this change are there any lessons or shifts that you hope to see on the other side of this/in the future? What vision do you hope to see (creatively, as an entrepreneur, as a community member/citizen, as a father).
Rashad: "I'm glad more people are becoming advocates and activists. White people in particular and even other people of color who have not necessarily stood up for black people are now 1) admitting the problems of systemic racism exists and 2) getting involved to help us in this fight.

"We (as a Black people) have known modern day policing has its roots in slave catching. It's beyond important to recognize and admit these systems from their very beginning were built to kill Black people. In cities across this country, the police have been terrorizing black communities and no one holds them accountable.

"I am hopeful as a black man because like the late John Lewis said, this is "good trouble." The protests against these systems, the rage you're seeing when you press play on a social media video or turn to your local news channel; the grief you see playing out right before your eyes, this is good trouble.

"Black people and activists of other ethnicities are coming together and it's all been a very emotional yet hopeful uprising. It shows us what is possible when we all give a damn about Black lives and when we all are willing to do everything in our power to protect Black lives.
"My hope is that we all realize who we should be pointing fingers at! Point them at your local and state officials as we know they can change the trajectory of this conversation through policy and community economic development. And it's not enough to make policy but also to ensure the policies are being enforced.

"As a creative entrepreneur, I'm looking forward to doubling down on the work we're already doing and launching Yoshi experiences here in Portland. The quarantine has been a huge opportunity for us to explore and research new stories and new dishes through the lens of the Afro Asian diaspora. I expect 2021 to be the most creative and transformative year yet for the YJ team and our patrons."

..........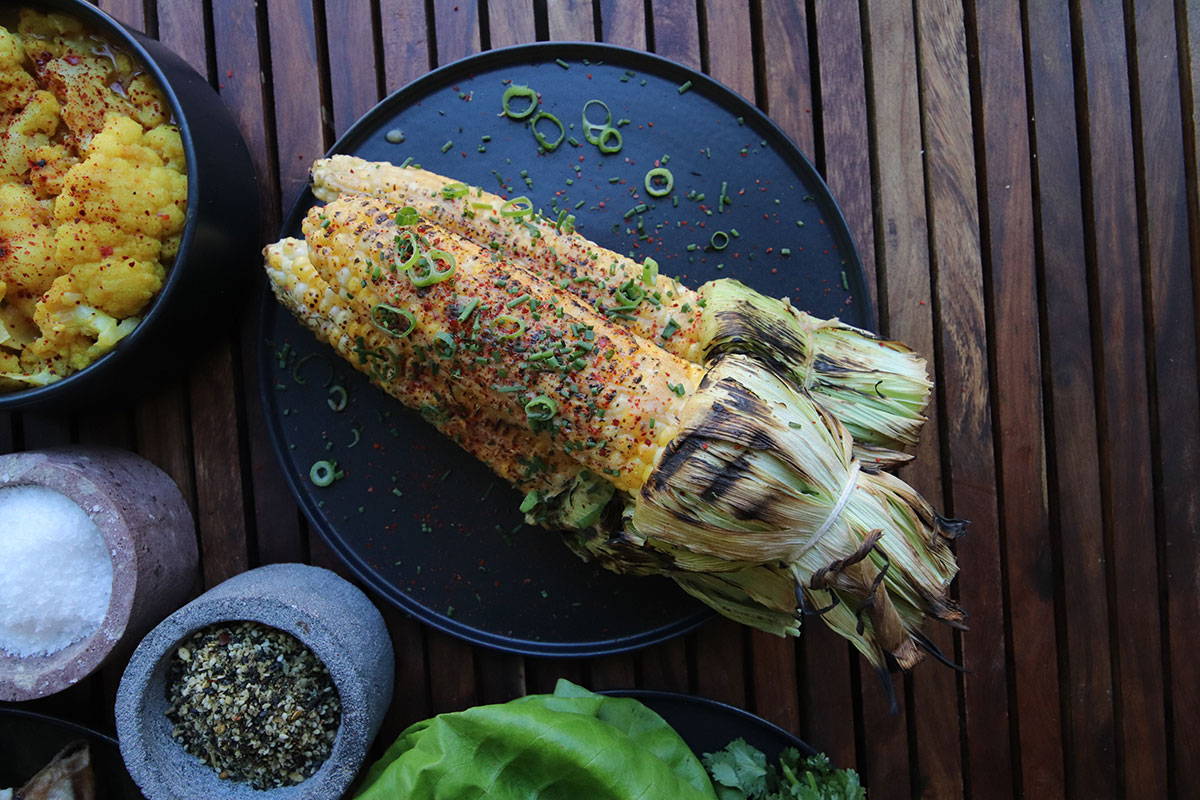 Charred Corn with Diaspora Butter
Compound butters are nothing new, however YJ's take on the traditional recipe is an example of how we're looking at food through a different lens.
Ingredients:
6 corn
1 cup vegetable oil
Salt and pepper, to taste
2 tbsp Togarashi Schichimi Lime, juice and zest
Diaspora Butter:
2 sticks of butter, softened
2 garlic cloves, minced
1 small shallots, minced
1 tbsp of ginger, minced
1 bird's eye chili, seeds removed and minced
1 tbsp salt
Method:
Dress the corn by carefully pulling the corn husk back as if you were pulling your hair back. Tie off husk using butcher twine and using shears cut wild husk leaves to give the corn a uniform neat look. Bye-the-way, this is totally optional. You could easily remove the husk completely and the corn would be just as delicious.
Bring a pot of water to boil and liberally salt. Blanch the corn for 30 seconds.
Prepare corn for the grill. If you don't have a grill you can use your oven's broiler. Dry off corn of any moisture. Brush each corn with oil and season with salt/pepper. Grill for 3-4 mins or until evenly colored.
Prepare the butter by mixing all ingredients. A food processor works great, be sure to not over blend. You want texture. Not baby food. Spoon butter over corn and place back on the grill or broiler for butter to melt. Finish with lime juice, lime zest and togarashi shichimi.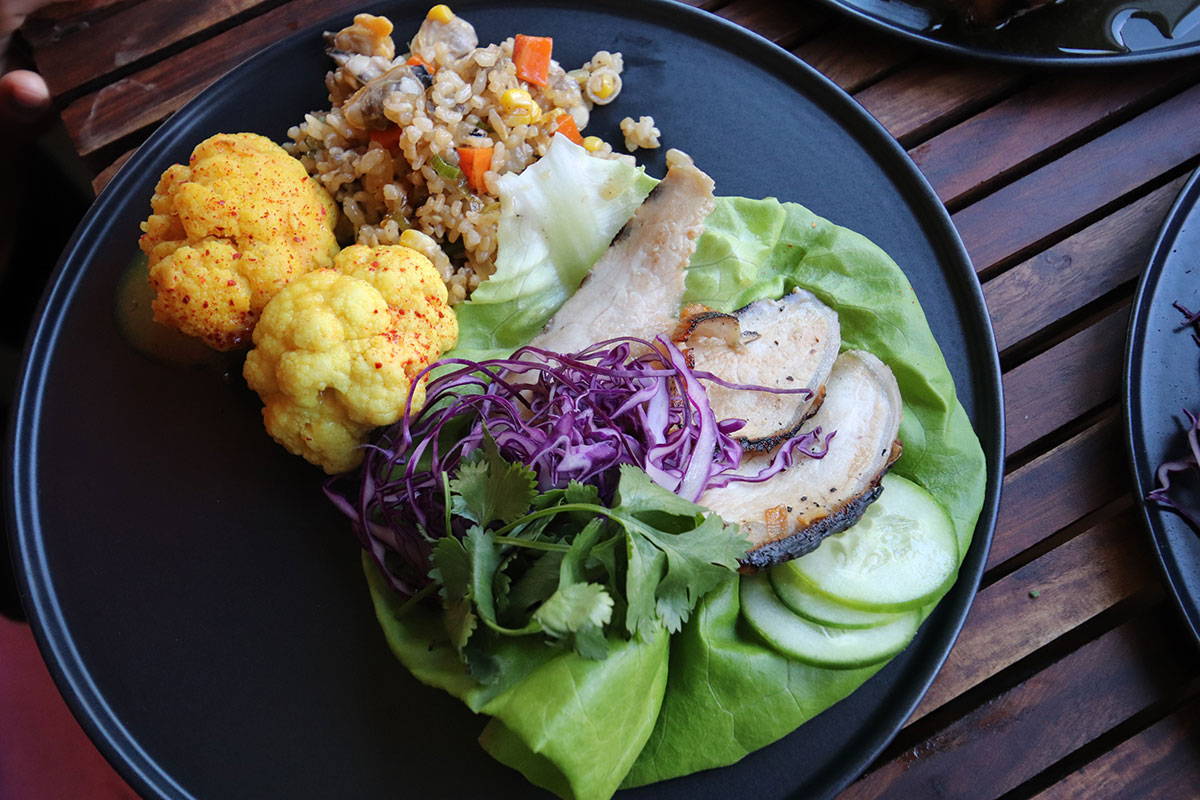 Grilled Pork Chop with
Buttered Leaf Lettuce
Ingredients:
3 center cut bone-in pork chops
1 tbsp lemongrass minced
2 tbsp garlic minced
2 tbsp ginger minced
2 tbsp sesame oil
1 grated lime
½ cup Asian fish sauce
½ cup soy sauce
¼ cup brown sugar
2 butter leaf lettuce heads, leaves separated
1 cucumber, thinly sliced
½ head of cabbage, thinly sliced
2 Limes, cut into wedges
Cilantro
1 red onion, thinly sliced
Method:
In a bowl, mix the lemongrass, ginger, garlic, sugar, fish sauce, soy sauce and lime zest. Add half of mixture and pork chops to a sealable bag and marinade for at least 12 hours or overnight in the refrigerator. Preserve the extra sauce.
Prepare a grill. While the grill heats up remove pork chops from the fridge and wipe off excess marinade/moisture. Allow pork chops to come to room temperature before cooking. They'll cook better this way.
Cook pork chops on each side for 4 minutes on indirect heat. Once finished cooking, cover lightly with foil and let rest for 15 minutes flipping over half way through. Thinly slice and serve on a platter with extra sauce, butter leaf lettuce, onion, cabbage, cilantro, lime and cucumbers. Enjoy!
Follow and connect with Yoshi Jenkins on Instagram.
Massive thanks to Rashad for his guidance, patience and wonderful recipes.
---