For our last round of recipes with Yoshi Jenkins, Rashad shares his Grilled Tamarind Chicken, Miso Molasses Baked Beans and Citrus Slaw for an ideal Summer BBQ with Mazama ceramics.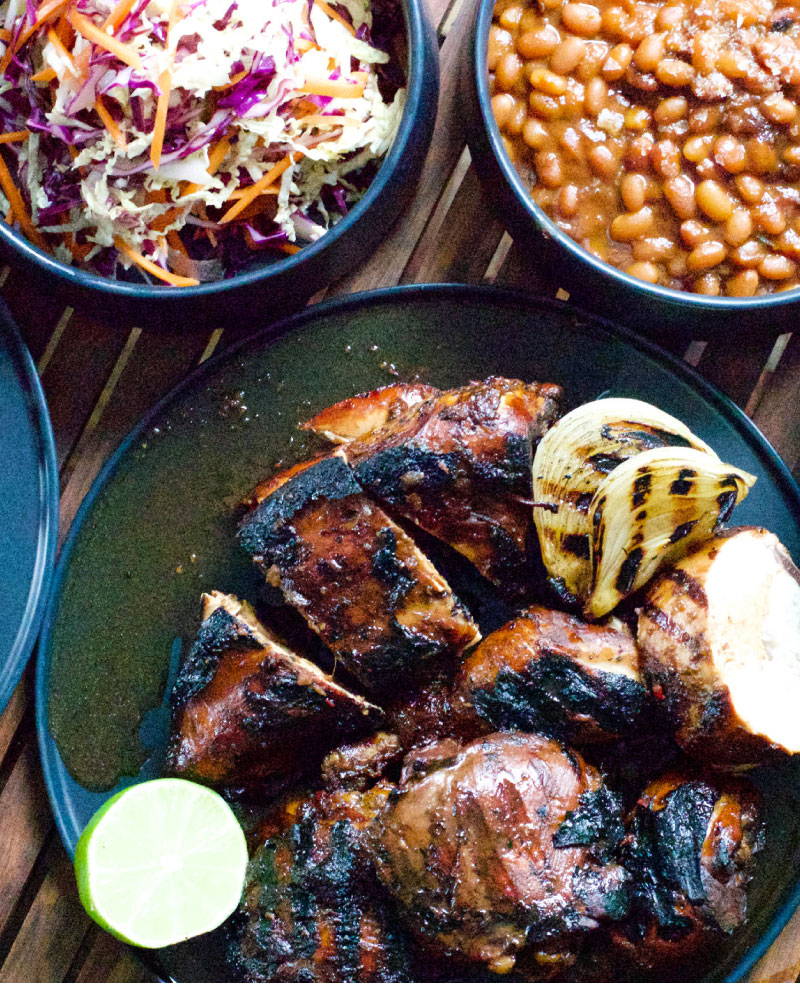 Ingredients:
1 whole organic

chicken broken up into 8 - 10 pieces

¾ cup tamarind cooking pulp

1 tbsp chinese five spice

1/4

cup soy sauce

1 tbsp

 

fish sauce

3 tbsp brown sugar

1 medium onion diced

5 garlic cloves minced

1 lime zested

1 red chili pepper, seeds and stem removed
Method:
Add all ingredients to a bowl and mix until well combined. Set aside a ¼ cup of marinade. Add chicken pieces and gently massage marinade into each piece. Marinade chicken for at least 12 hours.

Prepare a grill for indirect heat. While the grill heats up, remove chicken from the refrigerator, wipe away/pat dry surface moisture (want chicken to sear not steam) and allow chicken to come to room temperature. Chicken will cook more evenly this way.

Score shallow slits into the largest pieces of chicken then sear chicken on each side for 3 to 4 minutes per side. Feel free to baste chicken with extra marinade you set aside. Move pieces to the coolest side of the grill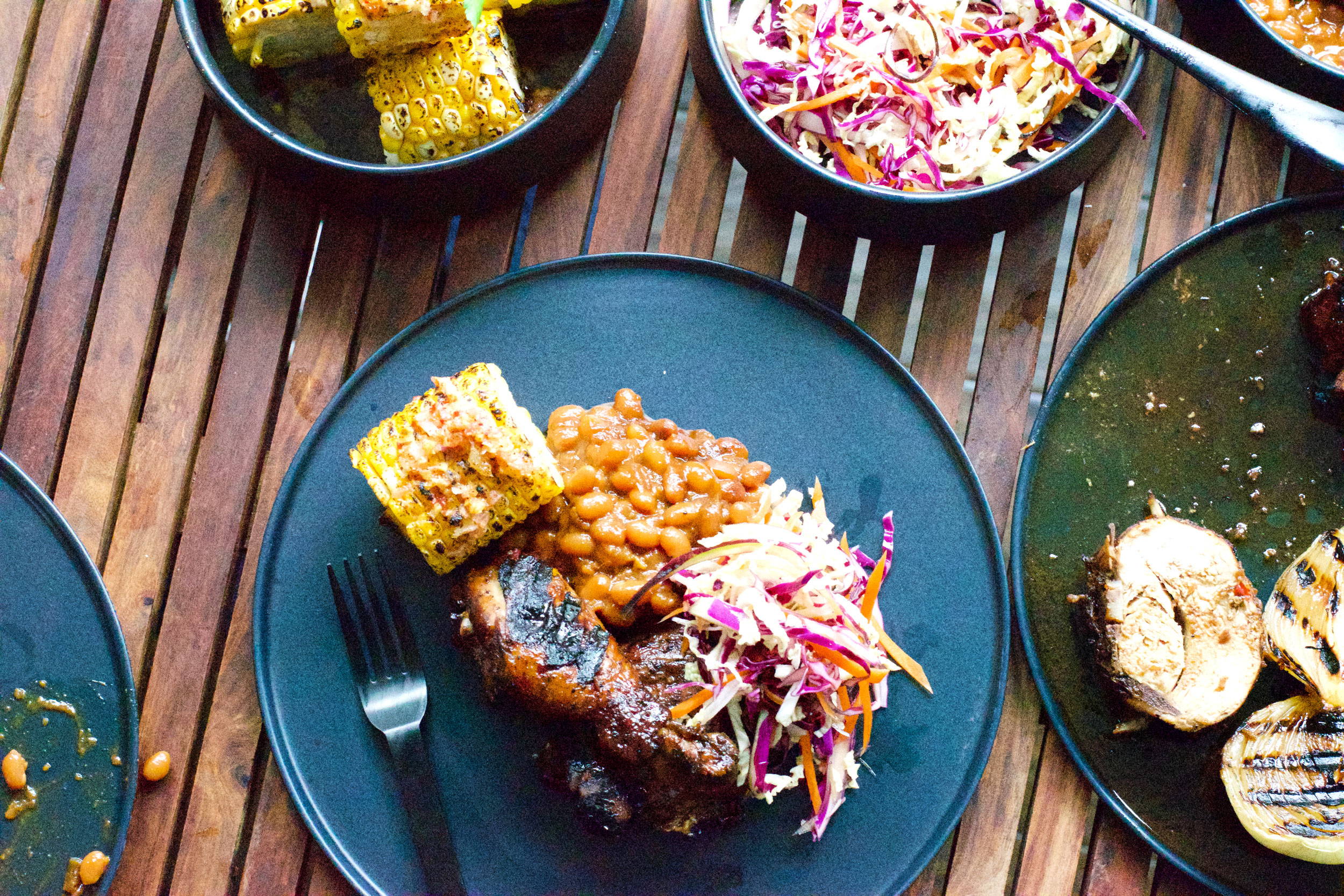 Miso Molasses Baked Beans
Ingredients:
1 pound dried navy or cannellini beans, soaked overnightz


⅓ cup molasses

⅓ cup yellow miso

⅓ cup Worcestershire sauce

⅓ cup soy sauce

½ cup brown sugar

2 tbsp tomato paste

4 large garlic clove, finely grated with a microplane

1 tbsp mustard

1 tbsp of ginger (thumb size, ideally), finely grated

1 medium onion, diced

Salt & pepper to taste

1 cup vegetable stock or water

¼ cup + 2 tablespoons apple cider vinegar, plus extra (add after beans finish cooking)
Method:
1.Rinse the beans then pour in the pressure cooker. Mix together the molasses, brown sugar, miso, worcestershire, soy sauce, tomato paste, mustard, garlic, ginger and stock.
2. Next, toss beans, sauce and onion into a pressure cooker at high pressure for 27 minutes. When finished cooking and pressure releases, remove the lid and pour in the apple cider vinegar. Stir in and let rest for 10 mins. Serve.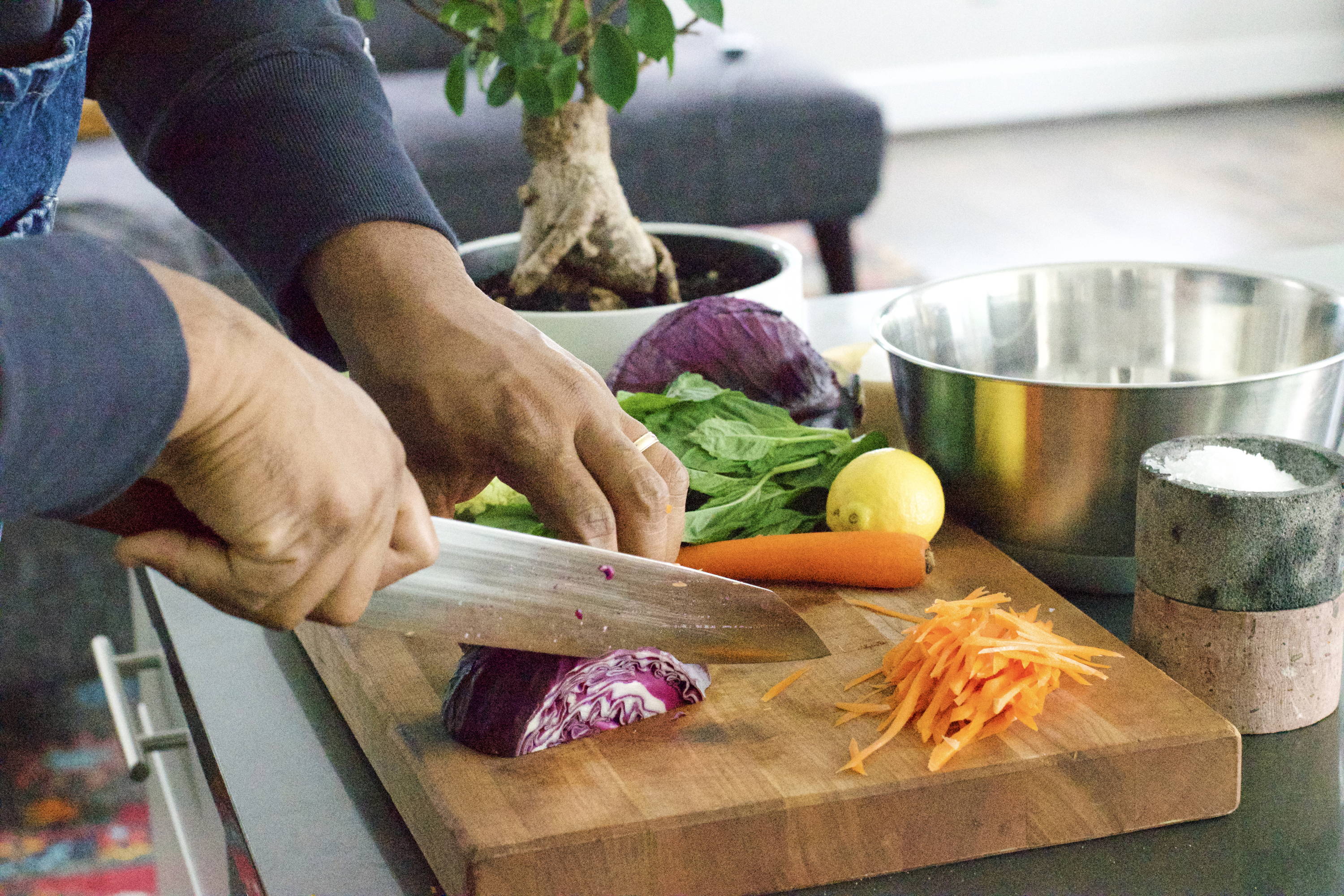 Ingredients:

Salad

½ red cabbage thinly sliced

½ green cabbage thinly sliced

2 carrots peeled, then thinly julienned

½ small onion thinly sliced

½ cup of basil leaves

Dressing

¼ cup fresh lime juice

¼ cup fresh lemon juice

1 tbsp honey

1 tbsp garlic finely grated

1 tbsp ginger finely grated

½ cup oil
Method:
1. For the dressing, add the lime juice, lemon juice, honey, garlic and ginger to the blender. While blending slowly pour oil to emulsify.
2. Combine the cabbages, carrot, onion and basil leaves in a bowl; add half the dressing and toss to coat. Finish with salt and pepper.
---
Follow and connect with Yoshi Jenkins on Instagram.
Massive thanks to Rashad for his guidance, patience and wonderful recipes.
---