For our latest at-home recipe we teamed up with Kate's Ice Cream to put a modern spin on the nostalgic ice cream (cookie) sandwich.
.....
Kate's Ice Cream is known for their inventive, creamy flavors that a traditionalist and vegan will agree are delicious. Always plant-based and gluten-free, Kate's makes some of the best ice cream no matter your preference.
To make this timeless summer treat come to life, we slightly adapted avegan chocolate chip cookie recipe that completed the plant-based theme while giving the classic sandwich a run for its money. Kate sandwiched in her signature 'Marionberry Cobbler' or her Tea Bar collaborative flavor, 'Matcha Latte' to complete this indulgent confection.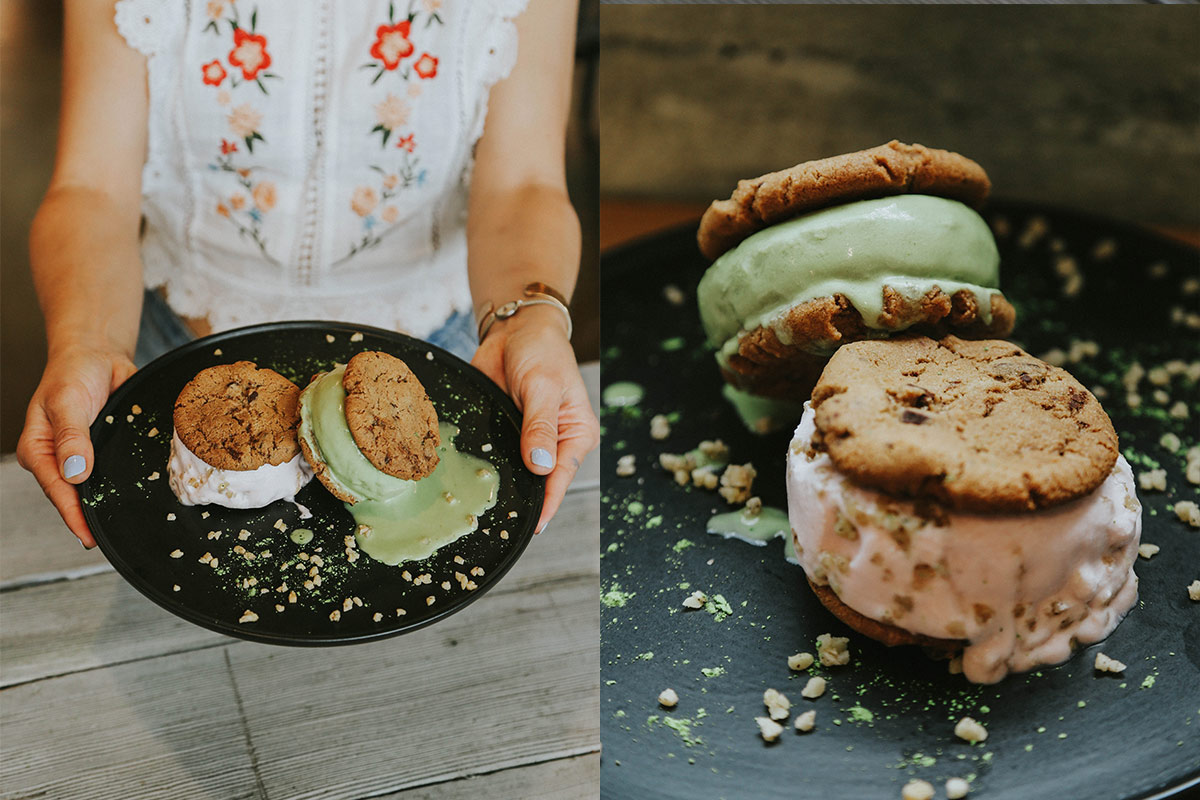 Vegan Chocolate Chip Cookies
Prep Time: 15 minutes (+30 min for dough to rest)
Cook Time: 12 minutes
Total Time: 27 minutes (57 min total)
Servings: 18 - 24 cookies (depending on size)
---
Ingredients:
1 stick earth balance butter (1/2 cup)
1 tablespoon oat or almond milk
3/4 cup brown sugar
1/4 cup white sugar
1 flax egg (1 tablespoon ground flax seed whisked with 2.5 tablespoon water)
2 teaspoons vanilla
1 1/3 cups gluten-free all-purpose flour - (we used Cup4Cup)
1/4 cup oat or almond flour 1 ounce
1 teaspoon baking soda
1/2 teaspoon salt
1 cup enjoy life vegan chocolate chips
Sea salt for sprinkling optional
Method:
In a medium bowl, whisk together the gluten-free flour, oat or almond flour, baking soda and salt until evenly combined. Set aside.
Melt butter in a saucepan over medium heat. Pour into a glass mixing bowl to prevent burning.
Add the oat or almond milk, brown sugar and white sugar. Whisk to combine. Add the flax egg and vanilla and whisk until smooth and creamy.
Using a rubber spatula, mix in the dry ingredients until well combined. Stir in the chocolate chips.
Cover the bowl and let sit for 30 minutes.
Preheat the oven to 350F. Scoop the cookie dough (about 2 Tablespoons of dough per cookie) and place a few inches apart on the baking sheets. Bake for 10-12 minutes, until golden and the center is set.
Let cool 5 minutes then transfer to a wire rack to continue cooling. Enjoy!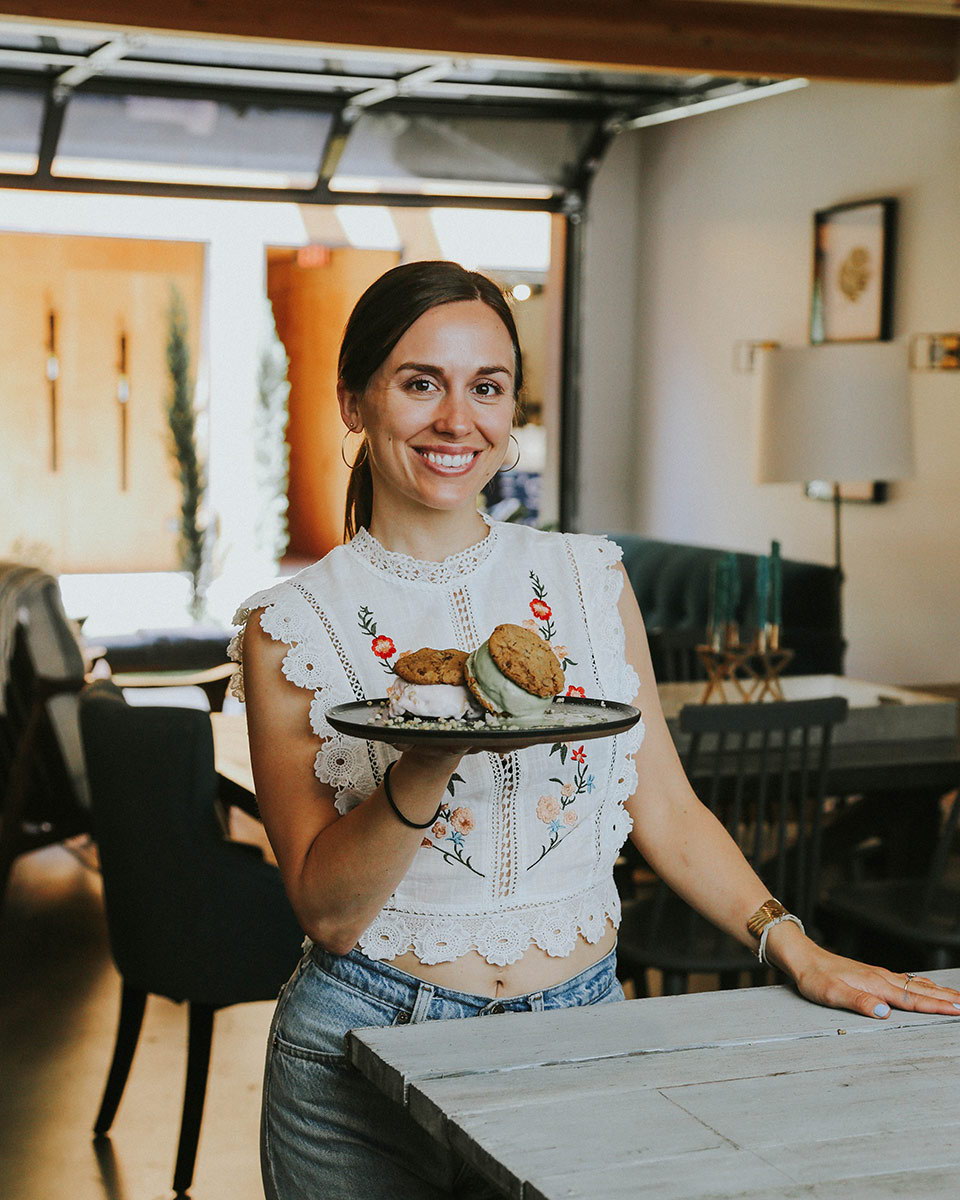 Get to know Kate, the founder and creative behind Kate's Ice Cream. Learn about her entrepreneurial path, the value of community for her and her business and why she has focused on plant based ice cream.
....................
TG: How do you pair flavors, creating various mouthfeels through each flavor, or pair particular ingredients together? What is your process when choosing those ingredients?
Kate: I get inspiration for flavors by what is in season, collaborations with local makers' products, and many flavors are created on a whim that just pop into my head. I mainly aim for a creamy mouthfeel, though some I want to be lighter in texture especially during the summer months like our Strawberry Summer, or a "yogurt-like" tang from our Hibisbloom's Lemon Balm Hibiscus flavor.
TG: What are some exciting parts of your job that you find to be highlighted throughout the process, and some harder parts of the job you find yourself working through?
Kate: My favorite part of running Kate's Ice Cream is that I get to create the future for myself. I am able to utilize the platform of a business to create company culture according to my values, build community, raise money for organizations, and be creative in our marketing. The harder parts are when things stagnate for a while, though I remind myself there's a natural ebb and flow to all parts of life. Especially with COVID-19, everyone knows that so much is uncertain, so navigating that.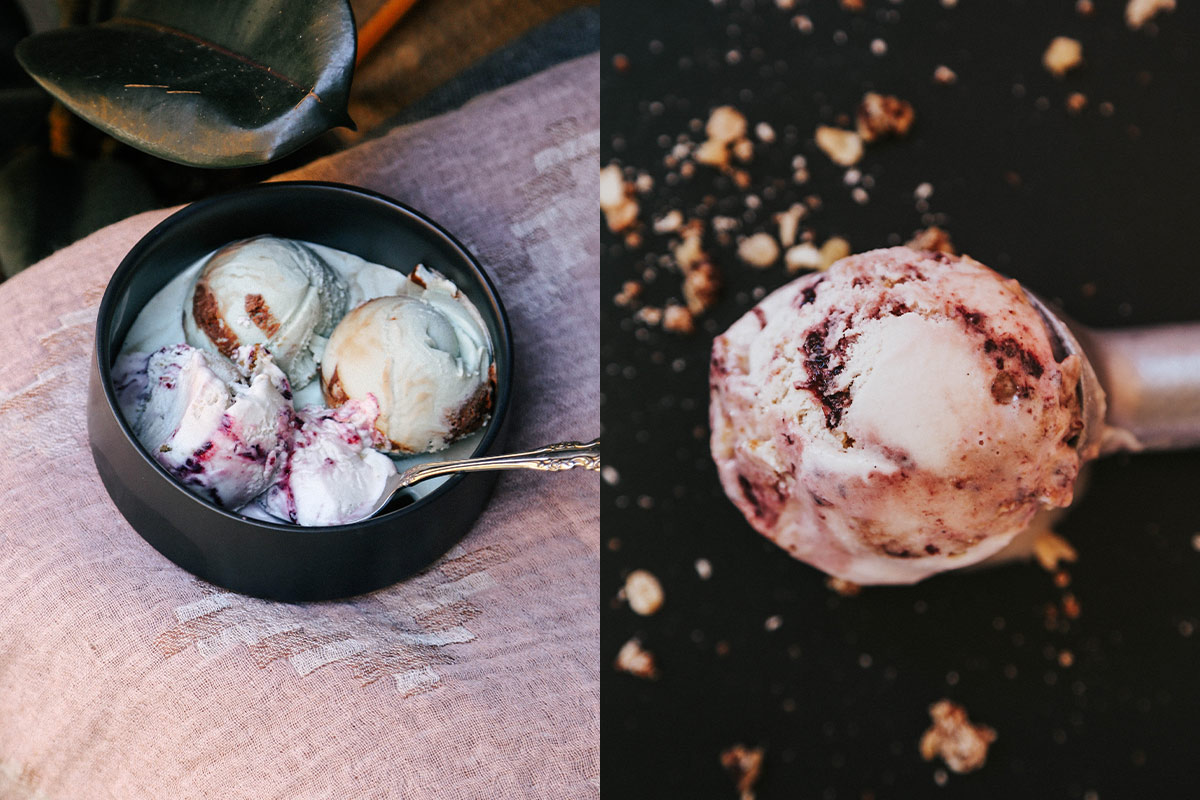 TG: How did Kate's Ice Cream begin? For those who aren't familiar, what's the story?
Kate: I started making ice cream in 2013 for my sister who couldn't have dairy, and I began recipe testing ice creams using coconut milk. Life brought me where I was meant to be all along - an ice cream entrepreneur. I launched my first business, Scoop Sights, in Boston in 2014 by biking a tricycle to local farmers markets and selling ice cream popsicles. Fast forward a few years, my husband Brandon Williams and I moved to Portland. I knew I had to continue offering what I had to give to this world. I launched Kate's in 2019 at the Portland State Farmers Market. The rest is history. My ice cream has had 7 years to develop, that's probably why it's so good. Haha.
TG: With everything changing and small businesses having to adapt given the circumstances of the world, what's been something that has kept you inspired / positive amidst everything going on?
Kate: We recently opened our pop-up ice cream shop that's tucked away in an inner-courtyard on NE Sandy. Being able to physically bring in community socially distanced has brought me a lot of joy. Connecting with new and old faces to scoop them a little treat gives me purpose. Especially since 'rona hit, I feel more in tune with the present moment and appreciating each person who walks through my door to support me and my team. Also, my hubs is always inspiring my creative ideas of how to grow the business!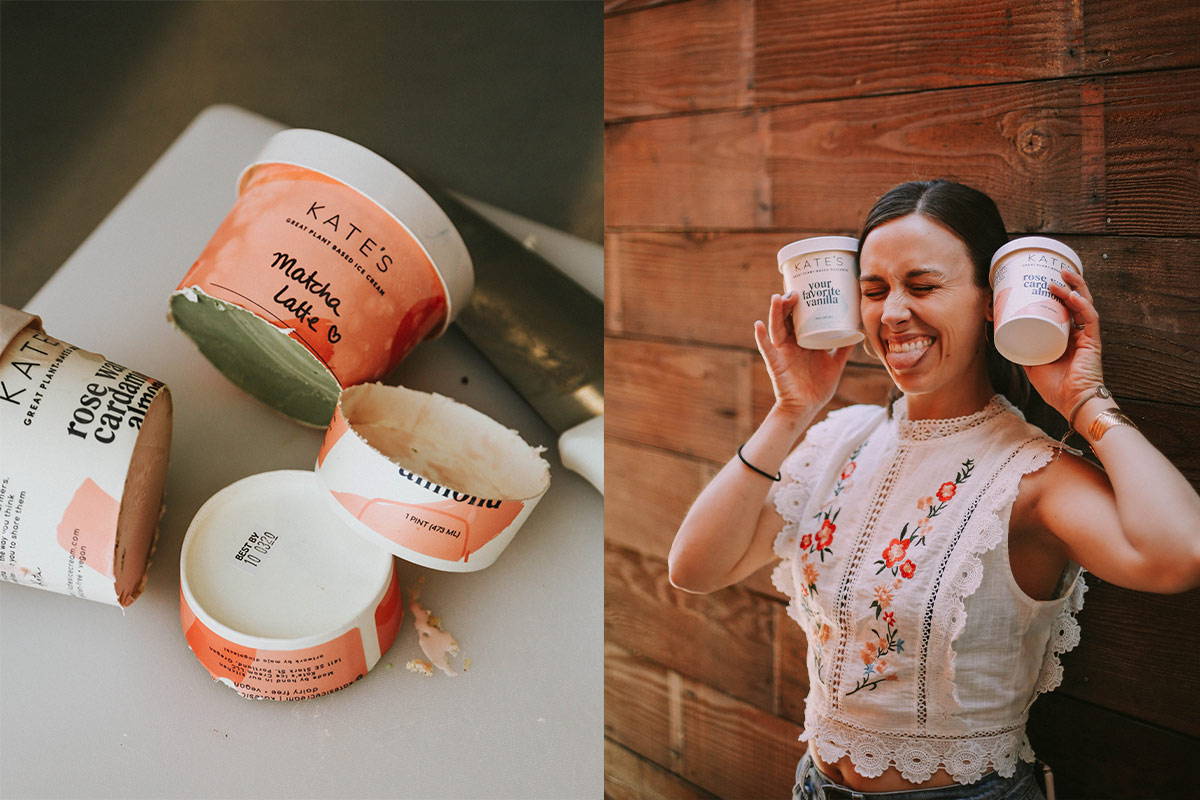 TG: What's your idea of community? How would you define this?
Kate: Community is the people who support you because they resonate with your mission. Conversely, community is who I support in return because they are the foundation of my company. I have customers who have been supporting from the beginning, and those that are new but keep returning. The customers who care and believe in you to spread word of mouth about you. In return, I love using Kate's as a platform to do good. We support other local makers through pop-ups in my courtyard, collaborating on flavors together and raising money for local social justice / anti-racism organizations. We also bring in diverse women and women-owned businesses in the events I do, like our International Womxn's Day event back in March (RIP events).
TG: Finally what have you found yourself doing more of with all of this time at home: new books, shows, music, or cooking endeavors?
Kate: I'm reading a lot! I'm part of a bookclub for women of color here in PDX called Prose Before Bros, and as a white woman it has stretched my boundaries. I'm there to listen to their opinions and learn from their experiences. That has been really important for my development as a white woman in seeing and confronting my own bias.
Thank you for featuring me Mazama Wares!
Kate's Ice Cream pop-up shop is located at 2636 NE Sandy Blvd and open from 12-7pm every Friday, Saturday, and Sunday. Follow her on Instagram.
Huge thanks to Kate for her time, words and insanely good ice cream!
---